Cheddar reservoir surveying work begins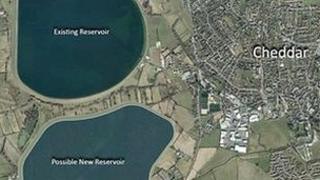 Surveying work has begun as part of plans to build a new reservoir near to the existing facility in Cheddar.
Bristol Water said the new reservoir is necessary to meet the demands of a growing population.
Jeremy Williams, from Bristol Water, said they would find out more information about the geology of the site to help them prepare a design.
The eight-week survey will be followed by public consultation on the scheme next year.
The company has also said it hopes to submit a formal planning application in December 2013.
If built, the new reservoir would be about 200m (650ft) from the existing facility.