Hinkley Point: Arrests over trespass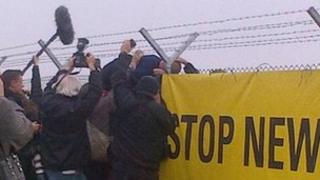 Seven people have been arrested as anti-nuclear protesters carried out a planned trespass at Hinkley Point.
More than 50 police officers attended the site as a weekend of action against government plans to build a third nuclear reactor drew to a close.
An EDF Energy spokesman said 15 people had trespassed on to its land.
The BBC's Clinton Rogers estimated that 50 protesters had been on site and he said he had seen "a handful" over the other side of the perimeter fence.
Protesters had threatened to scale the wall around Hinkley Site as part of the mass trespass.
The campaigners, who claim nuclear power stations are dangerous, said they planned to scatter a total of 577 seed balls on the land to symbolise each day since the Fukushima nuclear disaster in Japan in March 2011.
Camilla Berens, from the Stop New Nuclear Alliance, said: "We have successfully blockaded the main entrance to Hinkley Point on two occasions in the last year and now we have accomplished a mass trespass.
"Our message today is that we will continue to raise the game with peaceful protest until our voice is heard."
On Saturday, barrels made to look like nuclear waste were rolled through Bridgwater as part of a procession.
EDF Energy said its priority was "to protect the people who work here and our property".
Nigel Cann, from EDF Energy, said: "If they break the law, they take their chance... if they get on site, providing they leave by the end of the day - that's how we'll manage it."
Mr Cann estimated that "less than half a dozen" protesters remained on Monday evening, in a camp set up outside the site.
He said they were expected to stay there until morning and that there was a minimal police presence.
On Friday, a makeshift barn was built on Northwick Moor by the campaigners.
It aims to symbolise one that was knocked down as part of the preparation works taking place at Hinkley Point.
Hinkley Point C is one of eight potential sites in England and Wales identified by the government for new nuclear power stations by 2025.
The site's current Hinkley Point B came into service in 1976 but its working life has been extended to 2016.
If planning permission is granted, Hinkley Point C could be operational by 2020 and provide enough energy for five million homes.