Hinkley Point: Protesters camp for weekend of action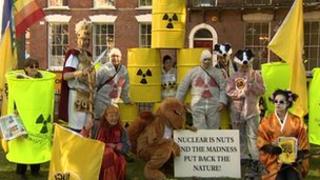 Anti-nuclear campaigners have set up a camp at Hinkley Point in Somerset as a base for a weekend of action.
They are protesting against government plans for a new generation of reactors to be built to replace those coming to the end of their working lives.
Energy company EDF, which wants to build a new reactor at Hinkley, said it "respects the rights of individuals to peaceful and lawful protest".
A spokesman for the firm said a new reactor would create 25,000 jobs.
Some protesters have built a temporary barn on common land at North Wick Moor to house people attending the two-day rally.
The rally is being addressed by ex-nuclear workers, local residents, guests from Fukushima and the anti-nuclear movement in India.
'Public subsidies'
A statement prepared from the notes of Crispin Aubrey, the Stop Hinkley campaign founder who died last week, will also be read out.
Earlier the protesters rolled barrels made to look like radioactive waste through Bridgwater to highlight the high-level waste which would be kept at Hinkley.
Bridgwater activist Nikki Clarke said: "We will keep coming back until these plans for a new radioactive waste factory have been abandoned."
Stop New Nuclear member Theo Simon said: "Nuclear is dead in the water and will only go ahead if corporations like EDF can get public subsidies from consumers and workers taxes - but that is like turkeys voting for Christmas."
Nigel Cann, Hinkley Point C construction director, said: "We respect the rights of individuals to peaceful and lawful protest.
"Working alongside the relevant authorities, we have made efforts to minimise any potential impact on local residents while allowing the protesters who have travelled here today to have their say."