Hinkley Point: Weekend of protest planned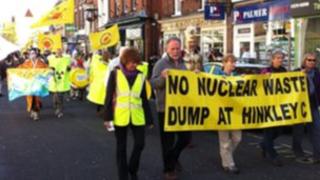 People opposed to plans for the first of a new generation of nuclear power stations at Hinkley Point in Somerset have gathered for a weekend protest.
The government wants to see a new fleet of reactors built to replace those that are progressively reaching the end of their working lives.
Barrels made to look like radioactive waste will be wheeled through Bridgwater to highlight the high-level waste which would be kept at Hinkley.
A rally with speakers is also planned.
"The government is refusing to acknowledge that its 'new nuclear' strategy is dangerous and expensive so we are being forced to raise our game," said Nancy Birch, spokesperson for the Stop New Nuclear Alliance.
Nigel Cann, Hinkley Point C construction director, said: "We respect the rights of individuals to peaceful and lawful protest.
"Working alongside the relevant authorities, we have made efforts to minimise any potential impact on local residents while allowing the protesters who have travelled here today to have their say."
Sarah Reid, a member of the Stop New Nuclear Alliance, said: "The government and (energy company) EDF are hell-bent on pushing through 'new nuclear' despite clear evidence that it will be impossible without massive public subsidies and a big hike in energy bills.
"We are calling on the public to fight this policy tooth and nail. Germany is creating a nuclear-free future that is sustainable and affordable. We can do the same here."
A final decision on the nuclear build has not yet been made by the government.