Badger culling licence issued in West Somerset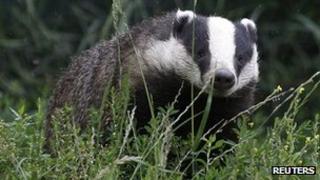 The second licence for a pilot cull of badgers has been issued in a bid to tackle tuberculosis in cattle.
Government agency Natural England issued the four-year permit for an area of West Somerset allowing the "control" of the nocturnal animal to prevent TB.
In order for the licence to be issued, access to more than 70% of land within the designated cull zone was necessary.
Simon Nash, from Somerset Wildlife Trust, said culling was "not the way to control TB in cattle".
Farmers say culling badgers will reduce the spread of bovine tuberculosis among cattle.
The licence will cover 97 sq miles (250 square km), which amounts to more than 70% of the pilot area.
Numbers are agreed
A specially-formed company which represents farming and land management interests has obtained the document.
Natural England says the licence will enable landowners to cull badgers over a continuous six-week period every year for the next four years.
Culling will only begin once the dates are specified and numbers are agreed on how many can be culled.
The agency has also said culling should not exceed a certain level which could cause the extinction of the local badger population.
Culling procedures, such as setting traps in advance, will not be allowed ahead of the open season.