Somerset equine therapy centre for autistic children is saved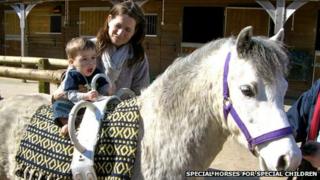 An equine therapy centre which has helped more than 600 families over the past year has been saved from closure.
Special Horses for Special Children, sited near Chard, uses horse riding to help children with autism, Asperger syndrome and neurological disorders.
But after the centre reported it had failed to raise enough money and would have to shut down and sell its horses, a mystery benefactor donated £25,000.
The centre has said the donation would enable it to stay open until Spring.
Over the past few weeks, the centre had been trying to raise a total of £35,000.
A mystery benefactor had already donated £10,000 but the new donation has safeguarded its short-term future.
Centre founder Lilias Ahmeira said: "It's been unbelievably amazing and now the horses do not need to be sold, four people can retain their jobs.
"There are an awful lot of relieved parents around the country."
The centre opened 18 months ago and uses a practice developed in the US by Rupert Isaacson whose work with his son was turned into a film called The Horse Boy.