Taunton Deane Borough Council 'neutral' on badger cull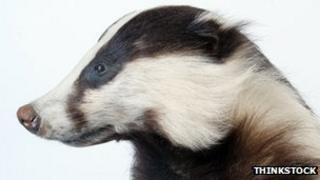 A Somerset borough council has said it will remain "neutral" over whether to allow a badger cull on its land.
Taunton Deane councillors voted at a meeting not to follow local authorities in Tewkesbury and the Forest of Dean in opposing the government scheme.
The local authority said it did not have the expertise to make a judgement about whether the cull was right.
The government has licensed west country farmers to shoot up to 70% of badgers to try and tackle bovine TB.
Councillors voted to contact the Department for Environment Food and Rural Affairs (Defra) to register concerns among some in the community who feel the proposed cull will not be effective.
They will also urge the government to devote maximum resources to finding a humane solution to the problem of bovine TB.
Campaigners say the cull will not have a significant impact in reducing the disease and are calling for the government to focus on vaccination methods instead.
But those in support of a cull argue the move is needed, claiming badgers spread TB to livestock, costing taxpayers and farmers millions of pounds.