Baroness bus crash: Band 'well on way' to recovery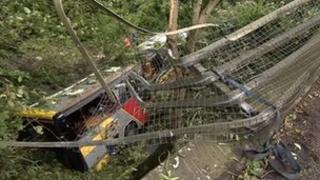 The guitarist of a US rock band seriously injured in a tour bus crash near Bath has said the band are "well on the way" to becoming active again.
Baroness's tour bus was on its way from Bristol to Southampton on 15 August when it fell 30ft (9m) from a viaduct on Brassknocker Hill in heavy rain.
John Baizley, who suffered a badly broken arm and leg, spent two weeks in hospital. He is now back in the US.
He said the accident had made him more passionate about his music than ever.
Baroness hail from Savannah, Georgia and formed in 2003. They are signed to Relapse Records and have released three albums.
Speaking on the band's website, Baizley said the accident had left its mark on the band "physically, mentally and spiritually".
He added: "In order to rehabilitate ourselves fully, we must work towards and then pass the goals we had prior to the accident.
"I will consider our immediate recovery a success only on the day we plug back in to play another show."
Baizley said his left arm was broken in seven places in the accident.
He said it took surgeons at Bath's Royal United Hospital eight hours to rebuild it using two titanium plates, 20 screws and 1.5ft (45cm) of wire.
Baizley, who returned to the US five weeks after the accident, said he was currently using a wheelchair and faces weeks of physical therapy in order to learn to use his arm and leg again.
Drummer Allen Blickle and bass player Matt Maggioni both suffered fractured vertebrae in the crash, while vocalist Pete Adams received minor injuries.
The band has cancelled all of its remaining tour dates this year.
Baizley said of the band's return: "It isn't going to happen next week nor will it be next month. But it will happen. We will be back on tour as soon as we possibly can."
Nine people, including the four musicians, were on board the bus when the crash happened.
A previous statement on the band's website said the bus driver remained in a critical condition.
Avon and Somerset Police are continuing to investigate the cause of the crash.