Secondary school plan for Weston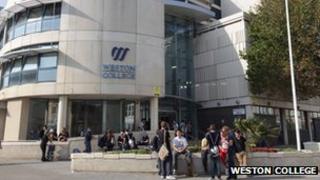 A Somerset college has asked parents if there is a need for a new secondary school in Weston.
Weston College hopes to build an enterprise and technology college for pupils aged from either 11 or 14, up to 19-years-old.
Principal Dr Paul Phillips said: "Both us and the local schools want to create something quite different."
North Somerset Council, businesses and schools have backed the plans. If it is built it will open in September 2014.
'High aspirations'
Paul Jacobs, assistant director for children and young people's services at the council, said: "Weston as a town is expanding and so we have a need for more school places over time.
"When we discussed with the college and with our four secondary schools in the town, we felt we wanted to create something different that would particularly offer opportunities for applied learning, which would prepare pupils for jobs in industry and high-level jobs in the market."
The school would open from 08:30 to 17:00 - similar to office hours.
Pupils would also wear business suits rather than a school uniform.
"We would have members of local industry contributing to the teaching, so it's very much a real-world environment which we think would motivate some young people and give them high aspirations," added Mr Jacobs.
As part of the consultation, college researchers will canvass opinions around the town centre and local supermarkets.