Sixty decorative Swans of Wells sell for £111,500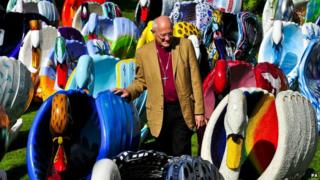 More than £110,000 has been raised with the sale of 60 colourful swans at auction in Somerset.
The large fibreglass and resin sculptures, all hand-painted, have been gracing the streets of Wells, to mark the Queen's Diamond Jubilee.
They were displayed for the last time outside the bishop's palace after being rounded up earlier this month.
Ian Marlow's Guinevere, which was nesting on a bed of silver leaves, sold for £9,000 at Saturday's auction.
The auction, hosted by Bath-based TV presenter Martin Roberts, raised £111,500 and 25% will go to the artists for their work.
All net profits after that will be donated to charities in Wells and other good causes.
Swans of Wells was a tourist initiative for Somerset which featured 60 of the five-foot (1.2m) sculptures - one for each year of Queen Elizabeth II's reign.