Nineteen cranes released to wild as part of Great Crane Project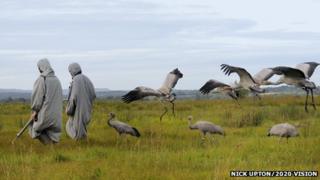 The latest batch of Eurasian cranes to be reared in England has been released on to the Somerset Levels and Moors.
The 19 birds hatched from eggs brought to Slimbridge Wetland Centre in Gloucestershire from Germany.
They were reared at the centre before being released in the Somerset countryside last week.
It is the third time the cranes, which will join 33 already in the wild, have been released as part of the Great Crane Project.
The birds were released by their human surrogate parents, who wear costumes resembling the cranes' plumage.
Project manager Damon Bridge said the older birds had shown "great interest" in the youngsters.
"It's going to be fascinating to watch how they all get on," he said.
The Great Crane Project is a partnership between the Wildfowl and Wetlands Trust, RSPB and Pensthorpe Conservation Trust, with funding from Viridor Credits Environmental Company.