Dorset and Somerset Ambulance public funding red tape fear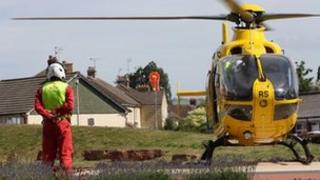 An air ambulance trust which operates in Dorset and Somerset has said public funding could slow down its operation.
Air ambulances rely on public donations but the government is looking into whether they should be publicly funded.
Bill Sivewright from Dorset and Somerset Air Ambulance said: "There is clearly a burden on us to prove certain things and that bureaucracy slows down the process of development."
But Great Western Air Ambulance has said without help it could be grounded.
'Charity model works'
The government has set up a cross-party parliamentary committee to look into how air ambulance trusts are funded.
Action has been taken after online petitions, questions in the Commons and the coroner who presided over the London bombings inquest all called for public funding.
Ambulance trusts only receive NHS funding for medical staff and routine drugs but the helicopter running costs are met via public donations.
John Christensen, chief executive of Great Western Air Ambulance, said: "The charity model works well, but the Great Western Air Ambulance is the newest of all the air ambulances across the country.
"Because of that, with all the financial crises going on at the moment funding is hard to come by.
"I think there should be a safety net from the government via the NHS so that, if for some reason at end of the year we didn't have enough money to fly, there was a safety net while we picked up the donations."
'Patchwork quilt'
The Great Western Air Ambulance (GWAA) serves parts of Somerset, Bristol, Bath, Gloucestershire and Wiltshire.
At the moment, the GWAA is trying to raise £500,000 for a new helicopter.
Clive Dickin from the Association of Air Ambulances, which represents all air ambulance services in the UK, said: "The main concern over public funding, from air ambulances around the country, is the perception it has to donors.
"That concern forms a patchwork quilt around the country where some air ambulance charities don't want public funding as they're quite well-funded but there is a minority who do need public funding, such as Great Western, so it is essential the public supports them."