Tropicana site at centre of new planning application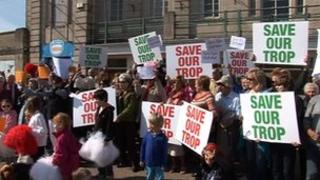 A businessman from Weston-super-Mare has said he is "in the process" of submitting a planning application for a new pool on the former Tropicana site.
Derek Mead, chairman of the Trop (WsM), wants to build a £5.2m all-weather, Olympic-sized pool for the community.
He has appealed to North Somerset Council to sell him the site for £1 rather than knocking it down.
His comments came at a rally attended by about 150 people opposing the demolition of the 1930s building.
"I'm a businessman. This is a tourist town," said Mr Mead.
"This is a tourist facility. It's got a history going back to 1938 when it was extremely successful.
"Let us have it for a quid. Save them [North Somerset Council] knocking it down for £750,000 of rate-payers' money.
"We're in the process now of putting in a planning application for that purpose. That should be with the council shortly."
Judicial review
Mr Mead added plans had already been drawn up and were "very similar" to those presented by the Trop (WsM) Ltd a year ago.
North Somerset Council wants to knock down the building, which has been derelict since 2000, and return it to beach with a new sea wall.
The plan was approved by the secretary of state for communities and local government in August.
But, on Friday, any work was stopped until the end of November after an injunction was served on the council.
Campaigners have asked the High Court for a judicial review of the decision to knock down the Tropicana.
The council said a judge would consider the review application on 29 November.