Autism free school hope in Somerset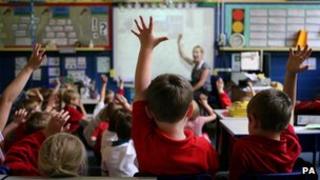 Parents in Somerset have announced plans to open a free school in Somerset for autistic children.
Those setting up Mendip Free School have said although special schools do cater for autism, some of their needs are not met in the education system.
Parent Paula Blight, said: "I do feel it's important to get that specialist help and to get it early on."
The hope is to open a school by September 2014 catering for 100 pupils aged between three and 19-years-old.
'Highly over-subscribed'
"We're in an impossible position where some autistic children are seen as too academically able for their local special school yet their autism needs are too great for the mainstream schools," added Mrs Blight.
The plan for a specialist autistic school has been welcomed by the headteacher of Fosse Way School in Radstock.
Fosse Way School, which is under the control of Bath and North East Somerset Council LEA, caters for children who find it difficult to succeed in mainstream schools.
Headteacher David Gregory said: "We are aware through meeting up with the parents that there is a gap in the provision.
"With our school, we already take pupils from Somerset and we are highly over-subscribed.
"We were originally a school for 128 pupils, we've got 182 pupils, so we've realised there is space for another school."
Parents have now started a petition to prove there is enough demand.