Songs from the Shed venue in Clevedon 'faces closure'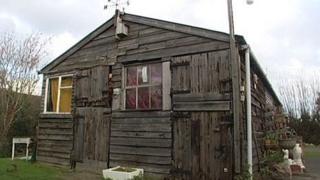 A garden shed in Somerset, which was named Shed of the Year after hosting online gigs, is facing closure.
Owner, Jon Earl, from Clevedon, said he was struggling to pay the running costs of the not-for-profit project.
Songs from the Shed has hosted more than 400 acoustic shows with acts, including Fairport Convention and Paul Heaton, coming from across the world.
Its website has had more than a million views, but Mr Earl said the running costs are becoming too much.
He has also hosted gigs by newer acts, such as King Charles and Benjamin Francis Leftwich.
'No real return'
"From the beginning I said that no musician would ever have to pay to come and play, and the website subscribers would be able to watch for free," Mr Earl said.
"But the reality is, after three years, it's cost me several thousand pounds. The reality is the bills need paying."
Mr Earl said he needed "a few hundred pounds" to allow him to continue, to pay for things like music licences and website costs, as well as day-to-day running costs.
"I spend about 40 hours a week of my own time running it with no real return," he said.
"I get up at 5am to do shed stuff. I have to fit it in around my normal job [at a printing company]."
'Unusual use'
Mr Earl said he had turned down an offer of sponsorship because "the company wanted to change the ethos of the shed".
In 2011, the venue won the national Shed of the Year accolade after impressing judges with the "unusual use" of the building.
Each performance is recorded using a hand-held recorder to make music videos in the 12ft by 10ft shed.
The videos are then uploaded on to the website and YouTube for people to watch, as the shed is too small to hold an audience.