EDF and Somerset councils agree on Hinkley impacts deal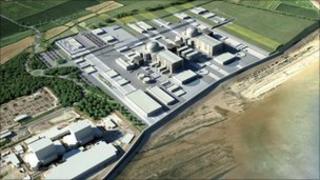 Energy firm EDF has agreed to give £64m towards local services in Somerset as part of its plans for a new nuclear power plant at Hinkley Point.
The money will be used by three Somerset councils to improve transport, housing and education provision.
Although the deal has been agreed, a final decision on the nuclear build has not yet been made by the government.
EDF has also given a further £30m to local services for the site preparation works which started in February.
'Quality of life'
The money will be shared among Sedgemoor, West Somerset and Somerset County councils to fulfil the section 106 agreement in the planning document.
The section 106 is a requirement for the developer to contribute towards the community to offset the negative impact of the build.
Over the past two years, all three councils have pushed to secure as much as money as possible from EDF.
The local authorities had also campaigned for a bypass for Bridgwater but this was not included in the energy firm's final planning document.
In January, Sedgemoor District Council also sent a report to the planning authority.
The report outlined the council's concerns over a possible decline in tourism, a loss in quality of life and house price increases due to extra demand from newly created jobs.
But since then, negotiations have been taking place between both sides to settle on a deal.
All three councils signed a draft legal agreement in August paving the way for this final settlement.
The package of improvements include £16m of road improvements, particularly for Bridgwater, a park and ride site and a bypass for the village of Cannington.
A Community Foundation will also hand out £12.8m in grants to the local community to "enhance the quality of life in local communities".