Somerset's first Steiner free school opens in Wiltshire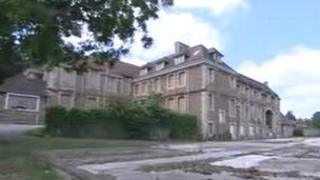 Somerset's first free school has opened its doors to pupils for the first time.
The Steiner Academy Frome, the second state-funded Steiner free school in Britain, has had to open in temporary accommodation in Wiltshire.
Building work delays mean its new site, four miles away, at the old hospital near Victoria Park will not be ready for "at least" another year.
Pupils from reception class to Year 4 will be taught at the school, based on the Rudolf Steiner principles.
Head teacher Trevor Mepham said its Corsley base would be its interim home for "the next 18 months or so" while negotiations and building work continue.
"There is at least a year of building work that needs to be done there with demolition, upgrading and also new buildings, so there is absolutely no way we could have moved in this September," he said.
Rudolf Steiner was an Austrian educationalist whose philosophy was to give priority to each pupil's physical, emotional, intellectual, cultural and spiritual needs.