Exmoor Classic Car Collection sold at auction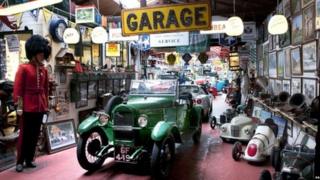 The entire collection of a classic car museum in Somerset has been sold at auction for just over £667,000.
The Exmoor Classic Car Collection was based in Porlock but owner Stephen Johns has decided to retire after 12 years.
He set up the museum when he moved to Exmoor from West Yorkshire.
As well as 10 historic cars and 13 motorbikes, memorabilia collected for many years was also auctioned off at Bonhams in Hampshire.
A 1927 Bugatti Type 40 Roadster was sold for £149,340, a 1972 Ferrari "Dino" 246GTS Spider went for £144,860 and a 1923 Rolls Royce 20hp Doctor's Coupe was bought for £57,500.
Tim Schofield, director of the Bonhams motor car department, said: "We were privileged to offer Stephen Johns' collection for sale at Beaulieu and we were delighted to see it achieve the prices it did.
"We wish him the very best for his 'second retirement'."