'UK's smallest' cinema relaunches in Axbridge after transformation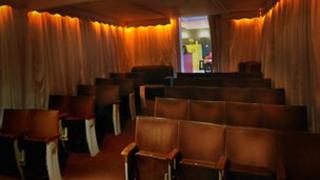 A 32-seat cinema - thought to be one of the UK's smallest operational cinemas - has relaunched in Axbridge, Somerset, following a five-year transformation.
The Roxy, housed in the old Red Lion pub, was installed by owners Juliet and David Maclay, who moved to the town in 1997 from New York, via London.
The volunteer-led redevelopment by former Aardman Animations set designer Sarah Laborde was a "labour of love".
Facilities include an Art Deco box office, 1950s bar and 'snogging sofa'.
'Pints of beer'
The Red Lion in the High Street was a derelict Georgian coaching inn when the couple's original restorations on the building began 15-years ago and it had been a pub for more than 250 years previously.
"The former coach entrance, formerly the public bar, [was] complete with full ashtrays and pints of beer left over from its last night of trading over two years before," said Juliet and David Maclay.
"It slopes gently uphill situated as it is on the southern slopes of the Mendip Hills."
During the renovation of Bristol's Colston Hall, the Maclays acquired the old theatre seats for the non-profit community cinema, which is also home to the Axbridge Film Society.
A grant from the Big Lottery Fund added the surround-sound and projection equipment.
'Eclectic mix'
Designer Sarah Laborde became a close friend and neighbour to the Maclays in 2008 and helped to create the cinema's "magnificent, eclectic mix of styles".
"Sarah's design work includes many years as an art director and set dresser for Aardman Animations, producing sets for the Wallace and Gromit films and other projects," said Mr and Mrs Maclay.
"Sarah brought her expertise on miniature sets to work with Juliet on the miniature cinema, and is largely responsible for the lovely little foyer, with its exuberant Art Nouveau styling."
The cinema's new season opens on Friday with a film called Tortoise in Love, which was made and funded by the entire Oxfordshire village of Kingston Bagpuize.
About 30 active volunteers from the town and neighbouring villages help to run the vintage-style venue, including manning the box office and choosing films.
Mrs Maclay said that the cinema was also registered as a venue that youth offenders can work their community reparation orders.
"Nice to demonstrate what can be done for a community other than vandalise it," she added.