Cheddar cave 'biggest in Mendip Hills'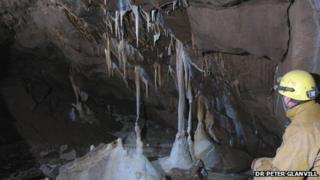 A cave discovered in Somerset is thought to be the largest ever found in the Mendip Hills.
The 30m (98ft) high and 60m (197ft) long cave was found in Cheddar by the Tuesday Diggers caving group.
It took the group four years of tunnelling before they discovered the "vast chamber" of stalagmites, stalactites and 5m (16ft) tall pillars.
Martin Grass, one of the cavers, said: "More people have stood on the moon than have stood in this chamber."
'Vertical rock wall'
Digging through silt and gravel, splitting boulders and occasionally using explosives, the group has spent up to four hours a week since 2008 clearing a narrow 0.5m (1.6ft) passageway.
They were finally able to enter the chamber on Tuesday.
"It's a bit like Escape from Colditz," said Mr Grass, who has been caving for 42 years.
"You've no idea what you're going to find but we had all the signs.
"The limestone walls were scalloped, which showed a river had flowed through there, and there was a good draught and the more we went on the better and better the draught got."
Ten days ago, with the draught "howling", the group of cavers crawled along their 100m (328ft) tunnel to emerge through the floor of a smaller chamber.
"There was a vertical rock wall about 12 metres high," said Mr Grass.
"And we descended that on Tuesday, thinking this passage would continue, and in fact it opened out into this massive chamber the height of a 10-storey building."
The vast underground chamber, named The Frozen Deep by the group, lies beyond a cave called Reservoir Hole.
It is, according to Mr Grass, the largest underground chamber so far discovered in the Mendip Hills.
"There are two floor-to-ceiling columns or pillars both five metres long and pure white," said Mr Grass.
"And it's filled with stalactites and stalagmites which are some of the best discovered not just on the Mendips but in the UK.
"It's only 20 miles from Bristol but other than the six of us, nobody has ever been there - so it's quite a thing."
Graham Price, chairman of the Council of Southern Caving Clubs, said the previous largest cave found in the Mendips had been GB Cavern, a 6m (19ft) wide by 12m (39ft) high by 90m (295ft) long chamber discovered in the 1940s.
"You just don't find things of this size in the Mendips - chambers that you can walk through," he said.
"So we're really thrilled for the group and really, really excited about it."