Funeral for Dylan Cecil after Burnham-on-Sea jetty fall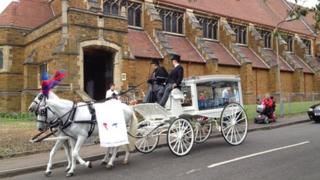 The funeral of a four-year-old boy from Northamptonshire who drowned after slipping from a jetty in Somerset last month has taken place.
Dylan Cecil fell into the water at Burnham-on-Sea on 19 August when he was trying to get a closer look at the sea.
The youngster, from Kettering, disappeared from view. His body was found four days later.
His funeral took place at St Mary's Church in Kettering at 13:00 BST.
The family had been visiting grandparents in Somerset when the incident happened.
Match postponed
Parents Rachel McCollum and Darren Cecil jumped into the water to try to save their son, before emergency services started a search operation.
Dylan's body was found by a member of the public at a sailing club less than half a mile from where he was last seen.
Family members and their friends who attended the funeral are fans of Kettering Town FC.
The club postponed its match on Tuesday evening at Stourbridge so that players and officials could also attend.
Manager John Beck said: "We are a community club and are also feeling the pain that the family is going through.
"We wanted to show our respect by coming to the funeral to help make sure that the family can move on to happier times at some stage."