Judicial review call over traveller site selection process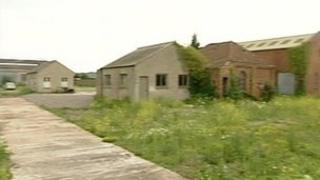 A group of residents opposed to proposals for a travellers' site near their homes have begun legal action over their council's selection and consultation process.
Bath and North East Somerset Council (BANES) is currently assessing the responses to a public consultation on six possible sites.
Residents are seeking a judicial review in relation to three of those sites at Stanton Wick, Radstock and Keynsham.
The council did not want to comment.
Solicitors representing the five residents wrote to the council on 24 July stating the reasons they believed the site selection process had been "unreasonable, irrational, unlawful and procedurally irregular".
The residents said they decided to seek a judicial review after receiving what they described as a "wholly unsatisfactory" response.
Philip Townshend, who opposes the Stanton Wick site as a preferred option, said: "BANES' own assessment of The Old Colliery site at Stanton Wick ranked it as being particularly unsuitable placing it in 17th position out of the 23 sites considered.
"There was no logical reason for it to even be on the long-list, let alone being identified as a 'preferred option' on the council's shortlist."
'Undeliverable'
The claimants said that despite efforts to resolve the issues without litigation, and more than 1,000 signatures on a petition, BANES "failed to remedy the errors made in relation to a number of sites".
They also say the council failed to "provide answers which can explain the seeming irregularity of [their] actions in terms of reasonableness, lawfulness and procedural propriety".
Les Robson, who opposes the selection of the former infants' school site in Radstock, said: "Bath Old Road Action Group believes that the sites selected are undeliverable.
"The process undertaken has unreasonably raised the expectation of the travelling community as well as putting the lives of local residents on hold whilst a decision is being made."
Rosemary Collard, who runs Snapdragons Nursery, next to the proposed site at Ellsbridge House, Keynsham, said problems with that option included the busy road, the unsuitability of a shared access with the nursery and loss of woodland.
The other proposed locations are at Whitchurch, Newbridge and Twerton.
No authorised sites for the travelling community are currently provided by the council.
Over the past 10 years, there have been about 20 unauthorised traveller sites across the district.