Rain causes North Somerset floods and landslip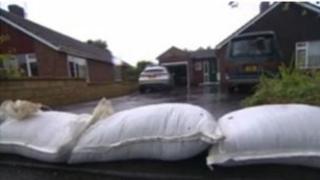 Scores of homes have been flooded in North Somerset following heavy rain, which also caused a landslip.
The worst affected town was Nailsea, where emergency services received about 80 calls for assistance.
Fire crews spent the night pumping out the homes in an operation that lasted for more than six hours.
Crews also worked with specialist rescue teams at a landslip in Portbury, near Bristol, to ensure that no-one had been trapped underneath.
"Very fortunately, after extensive searching the area was declared clear," an Avon Fire and Rescue Service spokesman said.
He said that heavy rain and run-off from surrounding fields had brought down soil, rocks and debris including fallen trees in Failand Lane, Portbury, at about 20:30 BST on Saturday.
'Torrential rain'
A search-and-rescue 4X4 vehicle was used to clear debris to make the lane passable, with help from a local farmer and his tractor.
"One family that were trapped in their property by the slides were able to get access to and from the lane," the fire service spokesman said.
Householders in Pill, Shirehampton and Tockington also called the fire service for help during Saturday night's torrential rain.
Householder Penny Saul, from Nailsea, said: "There was just torrential rain like you've never seen, really.
"The drains couldn't cope with it so they just overflowed. The drains were full of silt, so the water couldn't escape, so it just ran down the drive.
"It did get into the house but only the lower level. But it's gone all through the air bricks so it's underneath the house.
"It's soaking wet, we're praying that it will stop."
Gary Carr-Smith, from Avon Fire and Rescue Service, said: "It was tropical proportions of rainfall that came down in a very short space of time over several hours.
"The system was just inundated - the whole drainage system just couldn't clear water away quick enough."
Meanwhile, emergency services are dealing with serious flooding in the Scottish Borders.
Jedburgh has been badly hit after the local river burst its banks, resulting in flooding on the town's High Street.