Legal victory for campaigners over Woolley Valley farm plan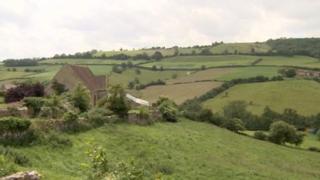 A campaign group has won a High Court battle over the development of a rural beauty spot in part of Somerset.
The Save Woolley Valley Action Group (SWVAG) challenged Bath and North East Somerset Council (B&NES) after it allowed a poultry farm to be built.
The company behind it and the council had said planning permission was not needed for the outhouses at Meadow Farm near Charlcombe.
But a judge ruling the council acted unlawfully in approving the proposal.
The 20.5 hectares of land, formerly owned by broadcaster Jonathan Dimbleby, was sold to Golden Valley Paddocks Ltd in 2005.
'Misdirected itself'
The valley falls within an area of outstanding natural beauty.
SWVAG, which is dedicated to protecting ancient meadows near Bath, challenged the council's decision to allow construction of poultry outhouses and a stock pond on the site.
At the hearing, Mrs Justice Lang backed the campaigners, and allowed a judicial review on both challenges.
She declared the council had "misdirected itself in law" when it concluded the poultry units were not "development" susceptible to planning control.
Mrs Justice Lang also ruled the council acted unlawfully by granting planning permission for the stock pond "without having carried out a lawful screening opinion".
'An important step'
In a statement, the council said it "will now need to consider its position in light of the Court's judgement".
"The council takes the protection of the countryside very seriously," a spokesman said.
"It has previously taken steps to protect the Woolley Valley environment in response to concerns from the local residents where there have been clear breaches of planning control."
But Bill Murphy, from SWVAG, said it was "an important step in saving this beautiful valley".
"We hope that B&NES will now enforce against this developer who has consistently, over a three year period, taken the approach of develop first and then apply retrospectively for Planning Permission expecting that the Council would find it 'not expedient' to enforce," he said.