Amy Hofmeister car chase crash killers sent to prison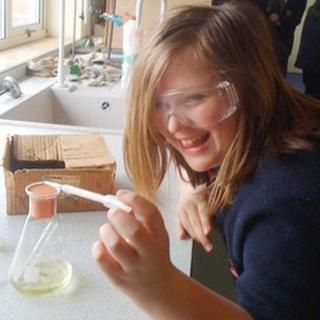 Two drivers who killed a 13-year-old girl during a high-speed car chase through a Somerset town have been jailed.
Amy Hofmeister was on a bike in Taunton when she was hit by a car driven by Leonard Jones, 42, in June 2011.
His ex-girlfriend Leanne Burnell, 21, driving a different car, had denied the crime but was found guilty after a four-day trial at Taunton Crown Court.
Jones has been sentenced to seven years and Burnell to 18 months.
Jones, whose address was given as care of HMP, admitted causing death by dangerous driving and Burnell, of Smithy, Bishops Hull, Taunton, was found guilty of the same charge.
Speaking after the sentencing, Amy's mother Jane Hofmeister said Burnell's sentence was "an insult to Amy's memory".
"I said right from the offset that I wanted justice for Amy. Justice for my daughter. She was killed - she was taken from me. I don't believe I received justice today," she said.
"My life sentence started on June 15, 2011 at 7.30pm. I have no reduction in that. Neither does my son Benjamin or my family."
During the trial the court heard Jones's car, a Vauxhall Vectra, ploughed into Amy after hitting a kerb and flipping over.
The court was told that Amy died during a high-speed game of "cat and mouse" between Burnell and petty thief Jones after she had sped off first from a local pub.
They were racing through Taunton town centre at more than twice the 30mph speed limit when Jones struck the schoolgirl.
Amy's friend Lucy Hawkins was also injured in the crash.
Jurors heard evidence from eyewitnesses who described seeing Jones driving at 80mph after telling his front seat passenger, "I'll catch her, I'll catch her".
He had just overtaken Burnell's Ford Focus when he lost control in Blackbrook Way.
Sentencing Jones, Judge Graham Hume-Jones said: "Mr Jones, you must bear by far the greatest responsibility for this tragedy.
"You may have been driving dangerously by speeding but you decided to aggravate this by overtaking."
Sentencing Burnell, the judge said: "You played a serious but lesser role in this.
"You effectively put a challenge to your former partner to get home sooner than you.
"You incited someone else to drive faster, but you did not incite him to overtake."
Speaking after sentencing, Dean Lampard, of the CPS in Taunton, said the decision to prosecute Burnell had been unusual.
It was taken after a lengthy investigation, legal argument and a recreation of the chase in a police car after closing the road.
"I felt that we should and could convince a jury that Leanne Burnell's actions were A dangerous in the way she drove and B that she was a contributing factor to the death of Amy," said Mr Lampard.
"I think the evidence was so strong from the witnesses. We had people saying she was driving like a bat out of hell."