Somerset flood sheep rescue fire crew airlifted to safety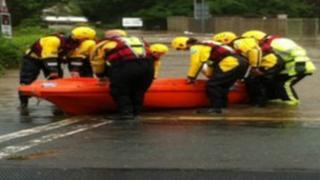 Firefighters had to be airlifted to safety when they became trapped by flood water while rescuing a flock of drowning sheep in Somerset.
The animals stranded by the rising water near a railway line at Batemans Farm in Chard.
Fire crews trying to save them also become trapped when the bridge leading to them collapsed.
RSPCA inspectors rescued the 10 sheep by boat. The firefighters were lifted out by a coastguard helicopter.
"We are so glad we were able to help these animals in distress," said RSPCA inspector Amanda Swift, who led the operation.
"There is no doubt that the sheep would have drowned if we had not been able to reach them.
"Our specialist teams are trained to assist animals in distress but, given these extraordinary circumstances, it is only natural that we turn our hands to help communities in crisis as well.
"It is a case of everyone helping each other out as best we can in these situations."