Household rubbish levels down to one tonne per year in Somerset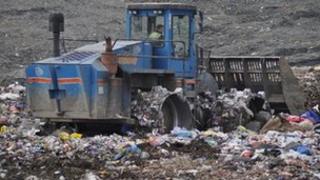 The amount of waste from households in Somerset has fallen to its lowest level since the 1980s, the county's waste and recycling service has said.
Somerset Waste Partnership (SWP) said the average home produced less than a tonne of rubbish and recycling a year.
And, although the amount being recycled remained steady, residents were throwing away less waste.
Steve Read from SWP said: "We're also better at taking stuff to charity shops and furniture to re-use groups."
'Right route'
In the last decade, the amount of waste being produced in Somerset has been falling steadily.
According to SWP's annual performance report for 2011-12, "household waste arisings" - the total of domestic rubbish and recycling - fell by 4% to 990kg.
The report added that recycling levels have remained at almost 51% but there was a fall in the amount of waste going to landfill.
"For quite a long time, some business waste has found its way illegally into the household waste products' stream," said Mr Read.
"Some of that is now going down the right route now, so that's helping to drop down the household levels now."
From July, aerosols and textiles will be accepted for recycling and kitchen towels can go into the food waste bins.