Fiona Geraghty inquest: Coroner attacks fashion industry and media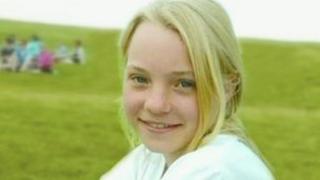 A coroner has criticised the fashion industry and magazines over the death of a 14-year-old girl in Somerset.
Fiona Geraghty killed herself after developing an eating disorder while studying at King's College, Taunton.
Her parents said her bulimia was caused by taunts from her peers over her weight.
The coroner, Michael Rose, called on magazines to stop the practice of showing pictures of "wafer-thin" models.
He recorded a verdict of misadventure at the inquest in Taunton.
'Thin models'
He said: "The one class of person not here who I feel [is] directly responsible for what happened is the fashion industry.
"... The problems of eating disorders amongst young people, particularly girls, did not exist before the 1970s. From that period onwards the fashion industry and the magazines promoted thin models and the thin figure.
"I do ask, particularly the magazines in the fashion industry, to stop publishing photographs of wafer-thin girls. One magazine, I believe Vogue, has recently taken the decision not to do so.
"I do implore it, because at the end of the day for their benefit, families like this must suffer. It is, I am afraid, an increasing problem and until they control themselves it will continue."
'Cry for help'
Miss Geraghty was found hanging by a rope from her bedroom by her father at their home in Nailsbourne on 14 July, 2011.
Mr Rose said no-one could be sure she intended to take her own life and it could have been a cry for help.
Earlier, the headteacher of Miss Geraghty's school said no bullying took place, following concerns from her parents.
King's College headteacher Richard Biggs told the coroner there was "rather a clash of personalities common in girls of that age".
Mr Biggs also told the hearing that he had questioned a group of girls at the school about allegations they had taunted the schoolgirl about her weight, but the girls had categorically denied doing so.
Alison Chisholm, a manager at the Mental Health Trust in Somerset, said there had been a significant increase in the number of children suffering from eating disorders in the county, reflecting a national trend.