Radstock to Frome railway line reopening views sought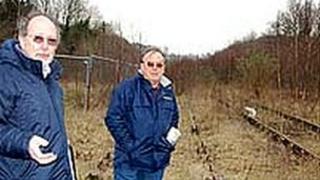 Campaigners who want to reopen the railway line between Radstock and Frome in Somerset are seeking support for the idea.
A meeting organised by South West Transport Network and Railfuture has been taking place in Radstock.
The groups want the idea to be included as an option in the franchise to run the Great Western line, which is due for renewal next year.
First Great Western said it was happy to discuss reopening the line.
George Bailey from the South West Transport Network said reopening the line was a possibility.
'Numbers escalated'
"There is no doubt people in Radstock, and along the line in places like Mells, do want a reopened line. It makes travelling so much easier.
"It takes a long time but we have seen examples [elsewhere in the country] where studies showed there would be a low level of passengers.
"Within about three years the numbers have escalated out of all proportion and they have had to put on extra trains."
Mr Bailey said the scheme would cost up to £40m.
The last freight traffic on the line from Radstock to Frome ran in 1988, but the rails on the route are still intact. Passenger trains last used the route in the 1960s.
A spokesman from First Great Western said: "[We] would be more than happy to work with local authorities and community partners to discuss the feasibility of reopening the line."
The public meeting was taking place at Radstock Methodist Church on Thursday evening.