Lee Pibworth and Allan Burnett hot-air balloon deaths: Narrative verdict at inquest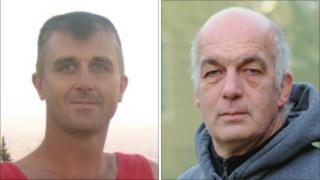 Inexperience of operating large balloons and the effects of altitude contributed to a fatal hot-air balloon crash, a coroner has found.
Pilot Lee Pibworth and Allan Burnett, both from Bristol, died when their balloon came down in Midsomer Norton, Somerset, on 1 January 2011.
Coroner Maria Voisin recorded a narrative verdict, which did not apportion blame to any one individual.
Mr Pibworth, 42, died on impact and a subsequent fire killed Mr Burnett, 55.
An Air Accidents Investigations Branch (AAIB) report said that although both men were experienced balloonists, for this flight they were using a large "lock-top" design balloon.
'Horrific' sounds
They were not familiar with this particular balloon or experienced in using it, although the court heard neither was unhappy about flying it.
The AAIB also said the lack of oxygen at high altitude might have affected the pair's judgement as they tried to descend.
Mr Pibworth, a pilot, had been trying to reach an altitude of more than 19,700ft (6,000m), one of the criteria needed for a British Balloon and Airship Club (BBAC) gold medal.
Flax Bourton Coroners Court heard the men, who had been planning the flight for seven months, had a fully-functioning oxygen supply and were both wearing warm thermal clothing.
Speaking in court were members of the ground crew including Mr Burnett's son Alex, who was the last person to talk to him on the radio.
He said before losing contact with him, his father sounded "perfectly normal".
The last thing Mr Burnett told his son was that he had reached 20,000ft, but after 30 minutes of not hearing from his father Alex got a phone call from a friend telling him there had been a balloon accident.
Witnesses in court spoke of the "horrific" sounds they remember from the crash on the bowling green in Midsomer Norton, and their shock at seeing the balloon engulfed in flames after it hit the ground.