Glastonbury Holy Thorn tree replacement is damaged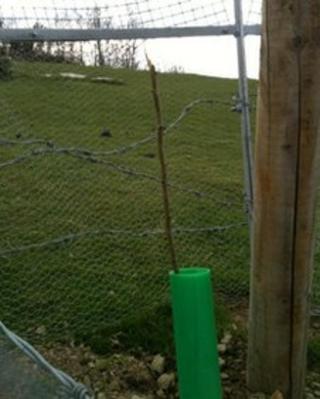 A Holy Thorn, which was planted in Glastonbury to replace one damaged by vandals in 2010, has itself been damaged.
The tree was planted on Wearyall Hill near the town and blessed in a special ceremony earlier this month.
It is not known how the new tree was damaged.
The original, grown from a cutting of a thorn said to have been planted by Joseph of Arimathea 2,000 years ago, had its branches cut off by vandals.
A new tree was planted on 1 April, surrounded by a metal cage to try to protect it.
BBC Somerset reporter Charlie Taylor said on Monday that the damage had been caused within the past 24 hours.
"I was up on the hill yesterday and it was about six feet tall, there were leaves coming off it and it looked very healthy," he said.
He said the new tree had been broken off completely "about a foot" off the floor.