Bath City's football ground to become Mayday Trust Park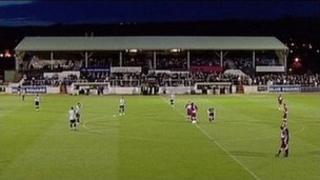 Bath City's Twerton Park stadium will be known as the Mayday Trust Park from next season.
The club held a raffle at £50 a ticket and the winning entry was drawn at half time in the club's game against Forest Green Rovers on Monday.
The winning entry was submitted by James Arnold, from the Mayday Trust, a charity which helps people to live independently.
In total 167 entries were made raising £8,350 for the football club.
Club chairman Manda Rigby said some of the 160 names suggested included The Wreck and The Pigsty.
'Wayne Rooney stadium'
"The pig is a well-known and well-loved mascot [of the club]," she said.
"If the person who suggested that one was prepared to accept the The Piggery instead - that too is the home of the pig but is not as derogatory as pigsty."
Ms Rigby said some names had automatically been ruled out of the draw including the Wayne Rooney stadium.
"Of the entries - there's 20% I'd really, really like and the vast majority - 70% - I'm quite neutral about," she added.
"But there'd be about 10% which we cannot rule out but they certainly wouldn't be my choice to go in."