'Millionaire shoplifter' Somerset conman Kevin Castle jailed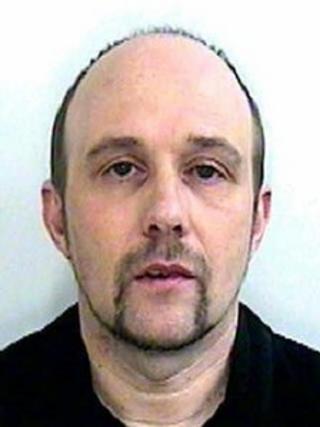 A notorious conman dubbed the "millionaire shoplifter" by police has been jailed for four years.
Kevin Castle, 47, from Somerset, stole people's letters to obtain credit cards using other people's names and ran up tens of thousands of pounds in bills.
Castle, of West Buckland, Wellington, admitted 26 fraud charges, one of theft and one of acquiring criminal property at Exeter Crown Court in January.
His partner Cathryn Russell, 42, was sentenced to 120 hours of unpaid work.
Hidden tin box
Russell had admitted four counts of fraud.
During the hearing, the court heard Castle's lifestyle included a £2,000-a-month five bedroom house with 11 acres of land and stables, six horses and a rented Mitsubishi 4x4, as well as expensive electrical goods.
He was caught by CCTV footage from a camera which had been fitted to one of his victim's homes in Somerset.
Police searched his property and found a tin box hidden in a hedgerow with documents linking Castle to various offences and victims.
The court heard he had visited various rural properties to target post boxes positioned away from homes.
Prosecuting lawyer David Sapiecha told the hearing Castle had fraudulently obtained £61,500 between August 2010 and June 2011.
"It was in essence his business... there were multiple applications, multiple victims, multiple cards and multiple banks... it was a sophisticated operation," he said.
'Extravagant lifestyle'
The court also heard Russell, a mother-of-three who had been with Castle for four years, had "turned a blind eye" to her partner's actions and "reaped the benefits" from them.
During Castle's sentencing on Wednesday, Judge John Neligan said: "Your record shows you are a career fraudster. The offences you pleaded guilty to are an extension of that career.
"You have a catalogue of offences for dishonesty... and it has funded an extravagant lifestyle."
In 2008, Castle was jailed for 28 months for money laundering.
At the time detectives believed he was making between £500 and £1,000 a day from as far back as 2004 as he drove around the country claiming numerous refunds.