Hundreds of Debenhams jobs move from Taunton to Leeds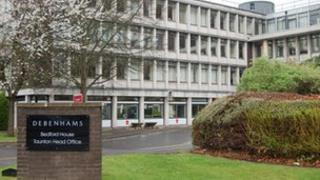 Up to 230 jobs could be lost from the Debenhams call centre in Taunton under plans to move the work to Leeds.
The firm says call volumes have increased rapidly thanks to online shopping and the centre in Somerset was not coping with the demand.
A 90-day consultation is under way with staff being offered alternative work or redundancy packages.
About 1,500 other administrative jobs at the Bedford House headquarters will be unaffected.
"We have experienced an increase in customer enquiries and volumes are expected to rapidly grow in the next three years," said Carie Barkhuizen, a spokeswoman for Debenhams.
"We already outsource nearly 50% of our calls to a third party and with demand continuing to grow we decided to undertake a strategic review to understand how best to meet the needs of our customers in the future.
"As a result of this review we have reached the conclusion that a specialist external provider is the optimal solution to support Debenhams continued growth.
"We have appointed Capita as partners to provide this solution following a full tender process."
No firm date has been given for the proposed move but it is expected to begin mid-to-late summer this year.