Shepton Mallet's market cross landmark is restored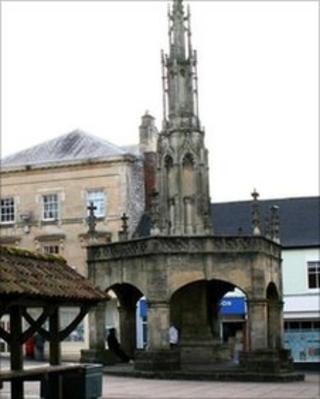 The final touches are being made to a Somerset landmark following a £90,000 restoration.
Shepton Mallet's market cross featured on the BBC's Turn Back Time television series where it was found part of the stone work was in a poor state.
Dave Clark from Mendip District Council said the structure had not been maintained for some time.
"Some of the the lead flashing had become damaged which meant water had damaged the timbers," he said.
The stonework has also been cleaned and a protective coating applied to help preserve it.
"The market cross has stood for centuries , it's the logo of the town and an important local landmark," Mr Clark said.
"These historic buildings are a finite resource and once they are gone, they're gone for good.
"Now the work is almost done we are looking to the public to come up with ideas to improve the setting around the base of the cross.