New tree to replace Glastonbury's vandalised Holy Thorn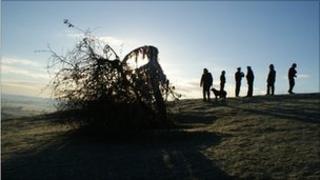 A new Holy Thorn has been planted in Glastonbury to replace one damaged by vandals.
The new tree was planted on Wearyall Hill near the town and blessed in a special ceremony at the weekend.
The original, grown from a cutting of a tree said to have been planted by Joseph of Arimathea 2,000 years ago, had its branches cut off in 2010.
John Coles, former mayor of the town, said despite "slight growth" he did not think the old tree would survive.
"People have missed the thorn when it blossoms, Christmas and Easter, and of course the sawn-off branches have done enormous damage," he said.
"Taking a look at it, there's still slight growth on the ground level but I don't think it's going to survive."
There are several Holy Thorn trees around the town. The vandalised tree on Wearyall Hill was planted in 1951 to celebrate the Festival of Britain.
The new Holy Thorn tree will to be protected by a steel cage.