Cheddar's medieval cross damaged in taxi crash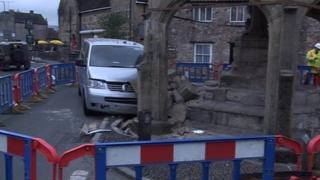 Emergency work has begun on a medieval cross in the centre of a Somerset town after a taxi drove into it.
The accident happened at about 04:00 GMT in Cheddar and has caused two of the pillars of the cross to collapse.
Local resident Trevor Jennings said: "There was a pile of rocks underneath the vehicle, there were still rocks on its bonnet and beside it."
Engineers said the monument, which has been cordoned off, could fall down. No-one was seriously injured in the crash.