Weston-super-Mare's sand festival will go ahead after a sponsor is found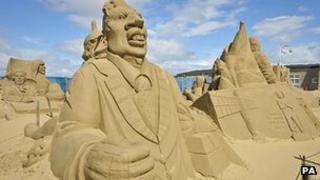 Weston-super-Mare's Sand Sculpture Festival will go ahead this year after organisers secured a sponsor.
The future of the annual event, which attracts crowds of up to 70,000 people, was in doubt due to a funding shortage.
Nicola Wood, from Leicester, and Alec Messchaert, who lives in Holland, took it over this year and said they needed £50,000 of the £150,000 staging cost.
North Somerset Council said it could no longer pay for the event which has been running for six years.
A council spokesman confirmed that sponsorship had been "found by the organisers."
The festival, which runs from June to September, attracts sculptors from around the world.
Ms Wood and Mr Messchaert, who are both sculptors themselves, said they hoped to make the 2012 festival bigger and better than last year's.