Avalon Marshes in Somerset is given £1.8m by Heritage Lottery Fund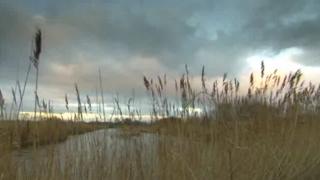 Avalon Marshes in Somerset has been given £1.8m by the Heritage Lottery Fund (HLF) to pay for improvements.
The money will help preserve habitats and archaeological features, and create new paths and bird hides. Visitor facilities will also be upgraded.
The area near Glastonbury is said to have 10% of the UK's reedbeds - a habitat that supports wildlife such as marsh harriers, bitterns and otters.
In total £2.5m will be invested in the scheme.
Alex Sherman, from Avalon Marches Landscape Partnership, said: "The award of such a substantial grant reflects the global importance of the Avalon Marshes landscape and heritage.
"As well as showcasing the natural and historic significance of the area the scheme is creating an important chance for local people and organisations to help shape its future."
The Avalon Marshes landscape partnership is hosted by Somerset Wildlife Trust and includes Natural England, the Hawk and Owl Trust, the RSPB, Somerset County Council, English Heritage and the Environment Agency.
It will be employ six people to deliver more than 60 projects over the next three years.
Avalon Marshes, which spans the land between Mark and Baltonsborough near Glastonbury, receives more than 70,000 visitors each year.
It is also home to archaeological features such as prehistoric settlements and track-ways which date back more than 6,500 years.