Recycling centres see fall in use after charges introduced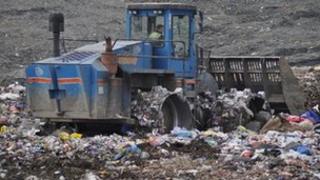 Recycling centres in Somerset have seen half a million fewer visits since entry fees were introduced in April 2011.
The council charges visitors at four centres across the county and for non-household waste, such as gas canisters, at all its tips.
The biggest decrease in visits was in Coleford, which saw a drop from 28,658 to 5,730 in 2011-12.
However, the council has met its savings target of £1.9m a year from the waste budget.
The combination of the entry fees and lower amount of waste being processed at the tips earned a saving of £1.2m.
'Huge amount'
Somerset Waste Partnership (SWP) carries out waste and recycling collections as well as disposal for all the councils in Somerset. The county council pays for the disposal of waste from across the county.
Conservative councillor Derek Yeomans, chair of SWP, said: "The amount of waste households are putting out for disposal has gone down by about 14% countrywide.
"As a result we're not having to pay the £70 per tonne to put into the ground [for landfill], so that is giving us a saving as well."
In 2011, 30,000 tonnes less waste was taken to tips compared to 2010.
Meanwhile, there has also been a rise in the number of fly-tipping reports across the county since the charges came in.
Fly-tipping
Between April and December 2010, just over 2,600 fly-tipping reports were made. The following year this rose to 4,100 for the same period.
SWP has admitted the charges led to an increase in the number of fly-tipping reports but pointed out that the volume of fly-tipping waste collected was less than the amount no longer being processed at the tips.
"It is a huge amount but it is falling off now and people are starting to realise that this is a totally anti-social behaviour and absolutely unnecessary," Mr Yeomans said.
"The waste sites are open, okay the hours have been reduced and restricted, but there is always a waste site available."