Shoe designer Manolo Blahnik headlines Bath in Fashion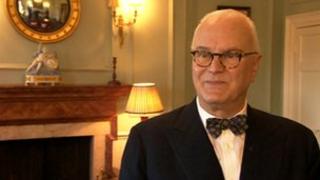 He became a household name when Carrie Bradshaw, heroine of the hit TV show Sex and the City, sang the praises of his stilettos.
But Manolo Blahnik has a much longer legacy of designing shoes for the well-heeled woman.
Born in 1942 in the Canary Islands to a Spanish mother and a Czech father, the designer, who has lived in Bath for 30 years, said his mother's adoration of shoes had been "genetically inherited".
Next year will be the 40th anniversary of his time as a shoe designer, which has seen him win numerous awards, have his work exhibited at the Design Museum in London, and become the first man to be featured on the cover of UK Vogue.
The designer, who was awarded a CBE in 2007, will be headlining Bath in Fashion 2012, which starts this weekend.
The event, in its third year, celebrates the World Heritage city's fashion heritage and its status as a shopping destination.
Others taking part include Roger Saul, creator of Somerset-based luxury goods brand Mulberry; Sarah Mower, fashion critic for American Vogue who hails from Bath; and celebrated milliner Stephen Jones.
'Incredible inspiration'
Blahnik said it was a "great privilege" and "very flattering" to have been asked to take part in Bath in Fashion.
"An incredible amount of inspiration comes from here [Bath]," he said.
"A few years ago, I did a collection completely in beige which was a mistake, it was not very sellable. But it was always inspired by the buildings of Bath.
"The shapes, the perfection, the harmony, the Georgian architecture. Where the hell are you going to get that?
"You used to get it in London but London's been damaged. Bath has been damaged also by 'lovely' developers but still retains that wonderful feeling of remoteness, of 18th Century types of things."
He said Sex and the City, which ran from 1998 to 2004, gave him a whole new audience.
"Younger women I guess with some money, it was very beautiful," he said.
"I was doing shoes 20 to 30 years before this nonsense but it was wonderful because now I go to New York all the time and all the girls at the immigration office say how's business, how are you doing, what are you doing this year?
"It's fun."
Bath in Fashion 2012 runs from Friday 23 March until Sunday 1 April.