London 2012: Torch route through Somerset revealed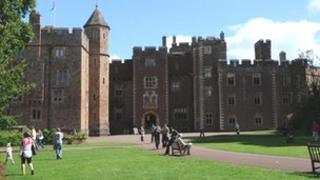 The Olympic torch will visit Dunster Castle as it passes through Somerset during the London 2012 torch relay.
On 21 May it will enter Porlock at 15:44 BST before travelling to Minehead, Dunster, Carhampton, Washford and Williton, before arriving in Taunton at 18:08, Locog has revealed.
In Taunton, an evening of celebrations will take place at Somerset County Cricket Club's ground.
On 22 May it will travel via Ilminster to Yeovil, Ilchester and Somerton.
It will then be carried through Street, Glastonbury, Wells, Croscombe, Shepton Mallet, Frome and Southwick.
The flame will then leave the county at lunchtime for its first Wiltshire leg.
The journey through Somerset is part of a 70-day tour across the UK before the torch arrives at London's Olympic Stadium for the opening ceremony on 27 July when the last relay runner will transfer it from their torch to the Olympic cauldron.
It will then continue to burn until it is extinguished on the final day of the Games.
Thousands of torchbearers have been recruited for the flame's journey before the opening ceremony.
Each torchbearer will wear a white and gold uniform which has been designed for the occasion by Adidas.
One of the torchbearers on the Somerset leg will be Tonia White, from Taunton, who lost her parents in the M5 crash which claimed seven lives last year.
Tony and Pamela Adams, from Newport, were heading back to Wales from Somerset when they were killed in the accident, near Taunton, on 4 November.
Ms White has been chosen to carry the torch as it passes through Ilminster.
She was nominated before the devastating crash by her employer, an international food chain, for the work she does in the community.
She said: "Mum was so excited when I told her about the nomination, they were planning on coming over to support me.
"I still feel they'll be with me, they were so, so proud."
Natalie Hawkins, 20, will also be a torchbearer.
When she was diagnosed with ME at the age of 15, Natalie refused to give up her place in the local girls' football team or the under-15 England rounders team.
Over the years she gradually increased her level of activity, never missing a match.
She said she was now 95% along the road to recovery, but still had hurdles to overcome and wanted other youngsters to know sport could heal and ME was not permanent.
The sport/play assistant at Elmhurst Junior School said she was chosen to run after being nominated by her mother.
"It was absolutely brilliant to be picked and I'm really excited," she said.
"I'm doing this for myself but also to raise awareness of ME."