Dog rescued from Banwell Wood mine shaft after nine days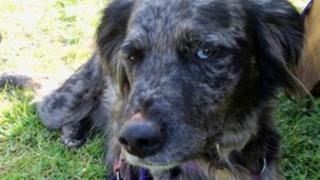 Peppa the dog who went missing while out for a walk in Somerset has been pulled from a disused mine shaft nine days after she disappeared.
A search was organised near Banwell Wood by the Four Paws Animal Rescue charity which had rehomed Peppa.
Simon Wall, from the charity, said: "I heard a dog barking and headed to what appeared to be a pile of boulders.
"There was a large sink hole about 30ft deep and there to my utter surprise, on a ledge about 8ft down was Peppa."
Mr Wall attached two dog leads together to form a make-shift rope and attached one end to himself and the other to a tree.
He then lowered himself over the edge of the hole in Sunday's rescue.
"I didn't want to grab her or frighten her so I had to go carefully," he said.
"She lent towards me and I got hold of her to bring her out."
"It was like a lottery win, a £1m win," he said.
"It made my year."
The collie-cross had lost 2kg in body weight but other than being thirsty appeared to be in good spirits.
Peppa's owner Audrey Binding said while the search was on she had waited at home.
"There had been no sightings for nine days so it was tough to keep my hopes up. I honestly thought the search party would find her dead," she said.
Then came the phone call to say Peppa had been rescued.
"When I stopped crying I was just so so pleased to see her I couldn't stop hugging her," she said.
"It's more than a miracle in my books."