Hundreds of owl nest boxes go up in Somerset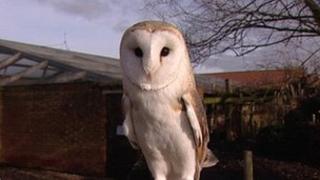 A total of 334 barn owl nest boxes are being put up across Somerset to encourage more breeding pairs and monitor the bird's numbers.
The Somerset Community Barn Owl Project will see at least one box erected in each parish by the end of 2014.
Chris Sperring from the Hawk and Owl Trust said the loss of traditional nesting sites meant about four out of five barn owl pairs now bred in boxes.
Somerset Wildlife Trust is working with the Hawk and Owl Trust on the project.
Landowners will be given free nest boxes and will be asked to monitor the birds and send back information so a countywide picture can be drawn up of where numbers are doing well and where they are struggling.
"I have every belief that we will ultimately be increasing the barn owl population of Somerset and helping a diversity of other wildlife along the way," Mr Sperring added.
The project will also involve local schools, where pupils will learn more about barn owls and will also be involved in building the nest boxes.
Volunteers are also being asked to help build and put up the nest boxes in the chosen locations.