Fukushima demo at Hinkley Point nuclear power station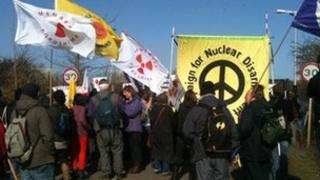 Hundreds of protesters have gathered at Hinkley Point nuclear power station in Somerset to mark the first anniversary of the Fukushima disaster in Japan.
The demonstrators planned to blockade the site for 24 hours.
Gordon Bell, spokesman for the station owner EDF, said Hinkley Point B had a "full and proper review" to ensure EDF learnt from the lessons of Fukushima.
The Japanese nuclear plant was destroyed in a tsunami on 11 March 2011, leaving massive contamination.
The tsunami left more than 20,000 people dead and tens of thousands had to leave the area as radiation leaked into the atmosphere, sea and food chain.
'Brass band'
The Hinkley protesters had hoped to form a human chain around the power station but instead walked around the three-mile (4.8km) perimeter fence.
Organisers claimed 700 people had arrived by Saturday lunchtime, while EDF estimated up to 450 protesters.
BBC reporter, Jules Hyam, said: "The protest is very good-natured with a wide variety of ages.
"There's a small police presence but within the compound there are many security people keeping a watchful eye on the proceedings.
"Many protesters are waving banners, there's a brass band and a number of speakers have addressed the crowd."
The site at Hinkley, which is about 10 miles from Bridgwater, is one earmarked for a new nuclear power station.
Mr Bell said that while the independent Office for Nuclear Regulation has declared that it is satisfied with the results of all the stress tests on the site, EDF had looked for opportunities to make its sites even safer.
"We must ensure we are never complacent and continue to strive towards improving safety at every opportunity," he added.