Somerset farmer claims 'badger activists' are behind attacks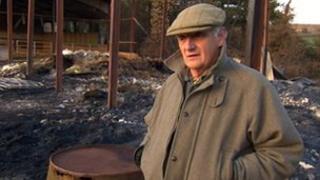 A Somerset dairy farmer has said he believes animal rights activists are behind a string of suspicious incidents on his farm.
Stewart Thomas said there had been two fires at his farm in Old Cleeve and his milk had been contaminated since he publicly backed a cull on badgers.
He has now started patrolling his land from 02:00 GMT.
Police said there was no firm evidence linking activists to the incidents, but they were being treated as suspicious.
A barn on the farm, near Minehead, was burnt down just over two weeks ago and Mr Stewart and his wife had to run into a burning barn to save their calves three weeks earlier.
Milk from his dairy has twice been found to be contaminated by an unidentified substance which is currently being analysed.
Mr Thomas said he believed he was being targeted by activists because of a recent local newspaper article in which he voiced support for badger culling.
Mr Thomas said: "You can't believe that there are people in the country or even the countryside who can do such an act.
"If they want to give a message I'm sure there are far better ways of doing it."
Melanie Squires, regional secretary of the National Farmers Union, urged farmers to be vigilant.
An Avon and Somerset Police spokesman said officers were taking the investigation extremely seriously and keeping an open mind.
The government has said that badger cull pilots aimed at reducing cattle tuberculosis can take place in west Gloucestershire and west Somerset this year.
The exact areas are not being revealed for security reasons.