Evicted Hinkley Point nuclear protesters sentenced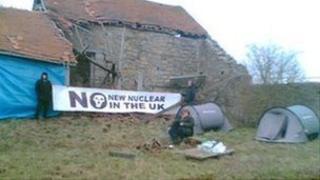 Two protesters arrested during the eviction of campaigners at the proposed Hinkley Point C nuclear power station site have been sentenced by a court.
Theo Simon, from Shepton Mallet, and David Jesse, from Taunton, both pleaded guilty to the obstruction of an enforcement officer.
They were each given a conditional discharge of six months, at Taunton Deane Magistrates' Court.
A group of seven people had occupied an old farm building, since 12 February.
Court order
Energy supplier EDF obtained a court order against the protesters and a two-hour operation to remove them was carried out at dawn on Wednesday.
The protesters said they were angry EDF was allowed to carry out preparatory work before planning permission was granted.
An EDF spokesperson said works were approved by West Somerset Council in July last year, following normal planning procedures.
The company was granted permission to carry out site preparation works including fencing, drainage, excavation and earthworks.
A planning application for the power station was submitted to the Infrastructure Planning Commission in October the same year.
Further public consultation is taking place and a final decision will be made by the energy secretary.