Hinkley Point protesters evicted from site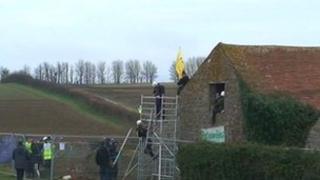 Anti-nuclear protesters camping on the site of the proposed Hinkley Point C nuclear power station in Somerset have been evicted.
Bailiffs removed the group of about seven who were opposed to EDF being allowed to carry out work before planning permission was granted.
The energy supplier obtained a court order against protesters who had occupied a farm building.
The operation took about two hours and a security team is now in place.
Bailiffs erected scaffolding to remove the protesters from the roof of the building. One of them had chained himself to rafters and had to be cut free.
The man was one of two people arrested by police for alleged public order offences.
'Keep fighting'
Speaking after the eviction, one of the protesters, Emily, who did not want to give her full name, said the group would continue with its campaign.
She said: "This hasn't ended today. Definitely not. Especially when the legacy of this is so long and so important for future generations.
"We're not going to give up now. We'll keep fighting this."
Following the eviction EDF issued a statement saying it had been granted a High Court possession order and injunction order relating to the people camping at the proposed Hinkley C construction site.
"High court enforcement officers employed by EDF Energy undertook the removal today with the police present to ensure public safety and to maintain order," it said.
"This is a sensible decision which will allow us to proceed with our development for what we hope will be the first new nuclear power station in the UK for more than 20 years."
The firm was granted permission to carry out site preparation works including fencing, drainage, excavation and earthworks, in July last year.
A planning application for the power station was submitted to the Infrastructure Planning Commission in October.
Further public consultation is taking place and a final decision will be made by the energy secretary.