Bath's hot spa water supply secured by underground pipe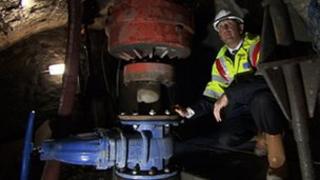 A rusting pipe which could have seen Bath's famous Roman Baths running dry has been replaced.
The existing borehole had deteriorated and there were fears the supply of thermal spa water from deep underneath the city would stop running.
Engineers said work to drill through 110m (360ft) of rock to accurately connect up to Hetling Spring beneath the city had been "challenging".
Tests are now taking place on the water flow and quality.
So far the results show a "sustainable flow" of water at 47C (117F).
'Geological problems'
The new borehole is 18m (59ft) away from the existing one and had to be drilled at an angle of 13 degrees to make sure it connected with the spring.
Work was expected to have finished in December but the project was delayed after fears "newer" water could get in and contaminate the thermal water.
Project manager Richard Soloman said engineers had to drill through various geological layers to reach the water chamber which is housed in carboniferous limestone some 100m beneath the city.
"It was a challenging project and we came across unforeseen geological problems along the way," he said.
The existing Hetling Spring borehole is expected to be capped in May once tests have been completed.
Wessex Water said Hot Bath Street would be reopened to traffic by 5 March - once the site had been cleared.
The new borehole will then be handed over to Bath & North East Somerset Council.
The cost of work has been funded by YTL, the parent company of Wessex Water.
YTL will also use the water to develop spa facilities the nearby 99-bedroom Gainsborough Hotel which it plans to open in 2014.