Cheddar Gorge in Somerset could get cable car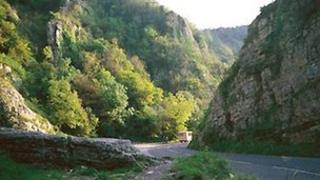 Somerset's Cheddar Gorge could get a cable car and education centre under plans to "breathe new life" into the attraction.
The Longleat Estate, which manages the gorge, said the project would help make it more accessible to visitors and support conservation work.
The chairman of Somerset Tourism Association said the plans would help bring more tourists to Cheddar.
The proposals are due to go on show next week.
A cable car at the gorge was first suggested more than 20 years ago.
Bob Smart, chairman of the Somerset Tourism Association, said: "Back in the old days in 1989 it was an idea that was before its time really, and there was a lot of opposition from local residents.
"I think that whole situation has turned on its head now, people realise how important it is that people are able to visit this important part of their national heritage."
The public exhibition will run from 8-10 March at the Bath Arms Hotel, in Cheddar, and on the Cheddar Gorge website.